Cancerology
The project
Project of basic research on the study of brain tumors in the adult.
The research team
The project is piloted by Professor Benoît Bataille, head of the neurosurgery department of the Poitiers CHU. His team is composed of Professor Lucie Karayan-Tapon,person in charge of the laboratory of biological cancerology/Inserm U1084, Sylvain Portet, a neurosurgery resident and Doctor Amir Naar, bioinformatician of the laboratory of biological cancerology.

Project details
This is a research project in cancerology pertaining to the biology of meningiomas in adults. A meningioma is an intracranial tumor representing 38% of brain tumors in women and 20% of brain tumors in men.  While they are often benign when they appear, as they grow they become more and more problematic. Standard treatment is surgical.
« During  consultations, we have observed that women treated for hirsutism with drugs derived from progesterone such as cyproterone acetate were more at risk of developing meningiomas than the general population. They had been taking this medicine for years, even decades, states Professor Benoit Bataille, head of the neurosurgery department at the Poitiers CHU. Then we realized that in many cases, discontinuation of this treatment was correlated with reduction in the volume of their meningioma".
The objective of this research project is to study the genomic and transcriptonomic characteristics of meningiomas developed during administration of cyproterone acetate in order to understand how this medicine acts upon the tumor.  « We wish to determine the factors that influence the growth of the meningiomas and to thereby locate the mechanism that might, one day, facilitate the development of targeted treatments", explains Sylvain Portet, who will dedicate his Master 2 year to the project.
Your donations will help to finance expensive laboratory research in molecular characterization of the meningiomas already stored in different tumor banks, including that of the Poitiers CHU, which possesses the largest cohort in France. All in all, thirty tumors are to be studied in the biological cancerology laboratory of the Poitiers CHU.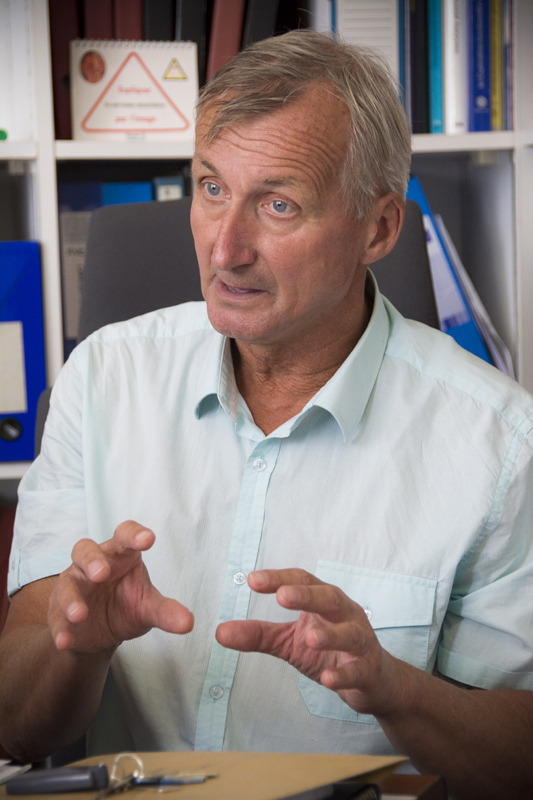 Professor Benoit Bataille has been the head of the neurosurgery department of the Poitiers CHU for ten years. Following his medical studies in Tours, je joined the Poitiers CHU in 1980 and became a university professor in 1998. He dedicated himself to research on deep brain stimulation (DBS), which can be used in treatment of Parkinson's disease, OCD and depression, before focusing on gliomas and meningiomas.